Ashley County Medical Center Receives Award for Quality Performance Measures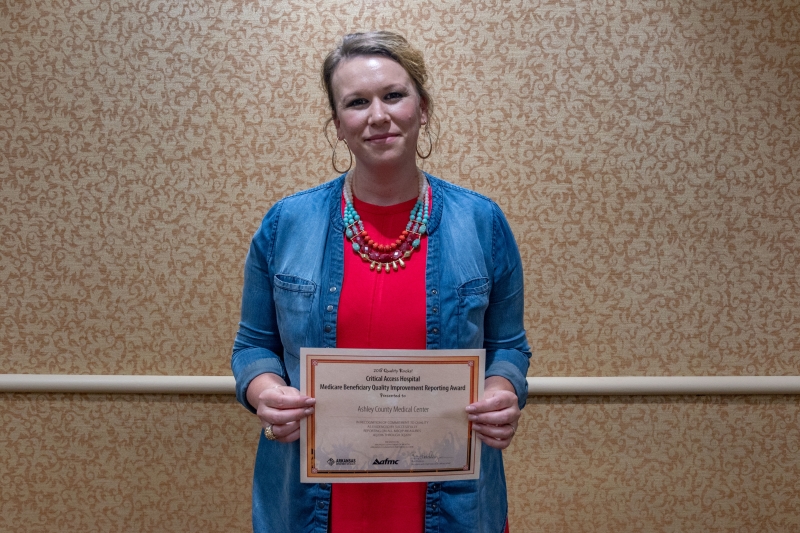 The Ashley County Medical Center, in Crossett, AR, recently received an award for achieving quality in performance measures for critical access hospitals (CAHs). One of only five hospitals in the state to receive the award, it was presented by the Arkansas Department of Health and the Arkansas Foundation for Medical Care, Inc. (AFMC). The presentation was made during the Critical Access Hospital Annual Workshop earlier this summer in Little Rock, hosted by AFMC.
Phillip Gilmore, CEO, of Ashley County Medical Center, says: "At Ashley County Medical Center it is our goal to put patients first, and strive to provide the best care and experience possible for our patients and their families."
Ashley County Medical Center also received a certificate recognizing its commitment to quality as evidenced by successfully reporting 100 percent of quality measures during 2017. Only 21 of the 29 CAHs in Arkansas received this designation.
CAHs are small, rural facilities that provide limited outpatient and inpatient hospital services. The CAH designation was created to stem the trend of rural hospital closures during the 1980s-1990s. The goal was to reduce the financial vulnerability of rural hospitals and improve access to health care by keeping essential health services available in rural communities. To accomplish this goal, CAHs receive cost-based reimbursement for Medicare services. They are reimbursed differently for their services, compared to acute care hospitals.
CAHs have 25 or fewer acute-care in-patient beds, are located more than 35 miles from another hospital, must maintain an average length-of-stay of 96 hours or less for acute-care patients and provide 24/7 emergency care services.
"Critical access hospitals have transformed health care in many parts of Arkansas and provided a lifeline to rural residents," says AFMC CEO Ray Hanley. "AFMC is proud to honor these hospitals for the hard work they do every day to ensure each patient gets the most appropriate and best quality of care."
The award recognizes CAHs in Arkansas for participating in the Medicare Beneficiary Quality Improvement Program, a quality improvement program for CAHs. It is part of the Medicare Rural Hospital Flexibility grant program of the Health Resources and Services Administration's Federal Office of Rural Health Policy.
Awardees must report quality measures for four areas: patient safety, patient engagement, care transitions and outpatient care. By reporting and improving these quality measures, quality of care can be improved. Better quality improves patient outcomes, thus improving patients' overall health and controlling costs.
###
For more than 45 years, the Arkansas Foundation for Medical Care (AFMC) has worked to improve the health of Arkansans through utilization review, quality improvement projects and public education. AFMC's mission is: To promote excellence in health and health care through evaluation and education.