Arkansas Children's Forum Highlights Focus on Improving Child Health Statewide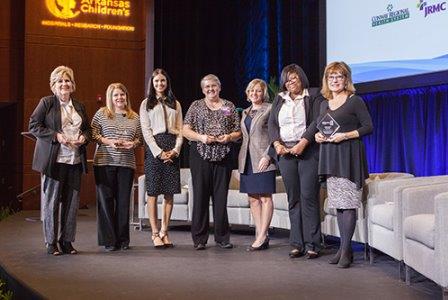 Recognizes Champions for Children, Including Walmart & Nursery Alliance
Arkansas Children's leaders shared a vision to significantly improve overall child health in the state on Wednesday as part of the Arkansas Children's Foundation's annual Children's Forum. The forum highlighted the work of Arkansas Children's partners, including Walmart and Legal Aid of Arkansas' work in the Arkansas Children's Medical-Legal Partnership and the Arkansas Children's Hospital Nursery Alliance. Both programs demonstrate a new approach to healthcare that focuses on community partnerships galvanized around multiple social determinants of health.
"Making kids better today and healthier tomorrow has to be more than a slogan," Arkansas Children's President & CEO Marcy Doderer, FACHE, told the board members, donors and volunteers gathered for the forum. "It has to be our way forward. It starts with a shift in perspective, a fundamental difference in how we think. We must focus as much on the health of children who never walk through our doors as we do the health of children who repeatedly walk through our doors."
The specific challenges Arkansas Children's and its community partners will navigate in the next five years include developing strategies to decrease infant mortality and address healthier neighborhoods, child abuse prevention, food security and behavioral health.
Doderer challenged the crowd to think about the partners who will help Arkansas Children's make that vision a reality, ranging from donors and corporate business to state agencies and other non-profits.
The event also included a salute to Walmart, thanking the millions of associates who together reached the $1 billion mark in funds raised for children's health through Children's Miracle Network Hospitals since 1987. Walmart made their historic announcement early Wednesday morning at a Walmart location in Hoboken, N.J.
"It's an honor and a privilege to celebrate Walmart associates' dedication to children's health," said Fred Scarborough, CFRE, president of Arkansas Children's Foundation and chief development officer for Arkansas Children's. "We are thrilled to recognize these steadfast partners for their dedication as champions for children."
The Arkansas Children's Nursery Alliance – a partnership among Arkansas hospitals that is creating better care for newborns close to home – was also recognized by the Arkansas Children's Foundation with the 2018 Betty A. Lowe MD Award on Wednesday.
The Arkansas Children's Hospital Nursery Alliance began in November, 2016 and has since grown to include five hospitals across the state with Level I and II nurseries. The partnership directly coordinates care between neonatologists at ACH's Neonatal Intensive Care Unit (NICU) and physicians working in nurseries at community hospitals, including Conway Regional Health System, Jefferson Regional Medical Center, CHI St. Vincent Hot Springs and Ashley County Medical Center. The fifth member, Medical Center of South Arkansas in El Dorado, was announced during the event.
Membership in the alliance strengthens the capabilities of Level I and Level II nurseries. Should an infant require Level IV NICU care, Angel One Transport is standing by to deliver the newborn to Arkansas Children's Hospital. The alliance and its allied hospitals collaborate and review quality data, grow and enhance care, and implement best practices in order to further improve the quality of care in Arkansas' nurseries and the health and safety of all newborns.
The collaboration addresses one of the state's most vexing health problems: infant mortality. For every 1,000 babies born in the state, 8 die before their first birthdays.
"It takes innovative partnerships to ensure that every Arkansas child reaches his or her potential," Doderer said. "We are grateful for each hospital that has made the commitment to further strengthen the care for their newborns by joining the alliance. They're truly delivering on that promise of a healthier tomorrow."
The Betty A. Lowe MD Award is given biannually to an individual or group who through personal initiative, service and leadership have made a significant contribution to the health and well-being of the children of Arkansas. Dr. Lowe served as the medical director of Arkansas Children's Hospital from 1977 to 2001. In 1993, she served as the president of the American Academy of Pediatrics and was the first Arkansas and the second woman in the nation's history to hold this title.
Past Betty A. Lowe Award recipients include:
2017: Tyler Duke and Mason Covington, student inventors
2015: Peggy McCall, Miracle League of Arkansas
2014: Anne Hickman
2013: First Lady Ginger Beebe
2012: Ray Hanley
2011: Sister Joan Pytlik
2010: Bettye Caldwell, PhD
2009: Robert H. Fiser, Jr., MD
2008: Patrick Casey, MD
2007: Roger Bost, MD
2006: Betty Bumpers
2003: Patricia Youngdahl, PhD
2002: Amy Rossi
ABOUT ARKANSAS CHILDREN'S
Arkansas Children's, Inc. is the only health care system in the state solely dedicated to caring for children, which allows the organization to uniquely shape the landscape of pediatric care in Arkansas. The system includes a 336-bed hospital in Little Rock with the state's only pediatric Level 1 Trauma Center, burn center, Level 4 neonatal intensive care and pediatric intensive care, and research institute as well as a nationally-recognized transport service. It is one the 25 largest children's hospitals in the United States and is nationally ranked by U.S. News World & Report in cardiology/heart surgery, neurology/neurosurgery, nephrology and pulmonology. Arkansas Children's Northwest in Springdale includes 233,613 square feet of inpatient beds, emergency care, clinic rooms and diagnostic services. Arkansas Children's also blankets the state with outreach programs that include telemedicine, mobile health and school-based health solutions. A private nonprofit, Arkansas Children's boasts an internationally renowned reputation for medical breakthroughs and intensive treatments, unique surgical procedures and forward-thinking research and is committed to providing every child with access to the best care available, regardless of location or resources. Founded as an orphanage, Arkansas Children's has championed children by making them better today and healthier tomorrow for more than 100 years. For more info, visit www.archildrens.org.