Ashley County Medical Center announces Ashley Cannon, MSN, APRN, FNP-C as our newest provider at the Hamburg Health Clinic
Ashley County Medical Center announces Ashley Cannon, MSN, APRN, FNP-C as our newest provider at the Hamburg Health Clinic. Ashley began her nursing career in 2014 as a Certified Nursing Assistant while attending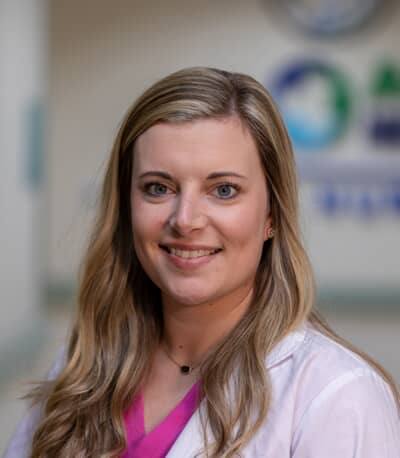 college at the University of Central Arkansas. She obtained her Bachelor of Science in Nursing degree from UCA while also working as a Licensed Practical Nurse in a local nursing home. After completing her Bachelor's in 2017, she moved back to South Arkansas and joined the Ashley County Medical Center family. Over the years, she has gained nursing experience in med-surg, ICU and long-term care from various facilities across South Arkansas. She went on to complete her Master of Science in Nursing-Family Nurse Practitioner degree in 2022 at Chamberlain University in Illinois while working as a travel nurse.
Ashley County Medical Center's Chief Executive Officer, Phillip Gilmore, says "We are very pleased to have Ashley re-join our ACMC family. With her years of experience as an LPN and RN, she will continue to provide excellent care to our patients, alongside Dr. Felicia Watkins- Brown, Tracey Longstreth, Jenny Murphy and Autumn Bennett."
Ashley is excited to re-join the ACMC family by serving as one of our new Nurse Practitioners at Hamburg Health Clinic. She states, "I am so grateful for the opportunity to return to ACMC and serve the community I grew up in. I have literally worked from the bottom of the ladder as a CNA to an FNP, which has allowed me to gain knowledge and experience to prepare me for my new role as a Nurse Practitioner. I have been doing FNP clinicals at the Hamburg clinic for almost a year now, and I am so eager to work with this team to provide the best care possible."
Ashley lives in Hamburg with her husband, Jacob. Together, she and Jacob have four children. Outside of work, Ashley enjoys spending time with her family, shopping, vacationing, and working outside in her yard.
Hamburg Health Clinic is located at 319 West Parker Street, Hamburg, AR 71646. Ashley is now accepting new patients. Please call Hamburg Health Clinic at 870-853-8271 to schedule your appointment.