Radiology
Located at Ashley County Medical Center
Ashley County Medical Center's radiology services offer high-quality diagnostic testing for patients of all ages with a variety of illnesses. Our tests enable our physicians to comprehensively evaluate the patient's illness, diagnose the problem, create a personalized plan of care, and monitor the treatments provided. The radiology department at our center is staffed by 12 employees, made up of 11 technologists and a secretary. Our radiology services are available 24/7. During weekdays, the department is staffed from 7am to midnight. During the weekend, the department is staffed 7am to 11pm. All other hours are covered by call.
Ashley County Medical Center is a state of the art medical facility serving South Arkansas and North Louisiana. We are the first medical center in the nation to install the DRX-Excel Plus system! This system provides rapid digital x-ray imaging and fluoroscopy exams and emits up to 80% less radiation. We also provide highly accurate and low dose CT scans and Digital Breast Tomosynthesis also known as 3D mammography!
---
Bone Densitometry Test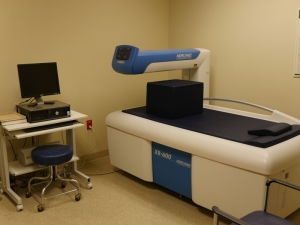 A bone densitometry test measures the amount of energy your bones absorb. This indicates the bones' density and strength. Those with osteoporosis and other conditions that cause bone loss benefit from this test, which can help diagnose your condition and track the effectiveness of bone loss treatments. At Ashley County Medical Center, we utilize state-of-the-art equipment that minimizes X-ray exposure. Overall, the test takes about 30 minutes. For the majority of the time, your technician will be by your side, except for when the X-rays are being taken. Your results will be interpreted by a radiologist or endocrinologist to get an accurate picture of your progress.
---
CT Scanning
Ashley County Medical Center is excited to announce the addition of The Canon Aquilion ONE / Genesis Scanner. The Aquilion has the ability to provide 16 cm wide coverage per rotation, at 0.275 rotation time and large 78 cm gantry bore, with a 694 lbs couch weight limit. The Aquillion also offers ONE BEAT cardiac scans, which in turn offers our physicians and patients the most updated technology, with reduced radiation exposure. A CT scanner takes X-ray images from different angles all around your body. These images are grafted together to form detailed, two-dimensiona
l pictures. CT scans can be used for a wide range of medical purposes, such as bone fractures or in preparation for orthopedic surgery. Each exam typically lasts no longer than 15 minutes and is interpreted by a specialist in the bodily area under examination. For more information, click this link: https://bit.ly/3Q53U8r
---
General Radiography
Ashley County Medical Center's skilled and experienced radiologists are able to provide exams for virtually every area of the body using advanced, state-of-the-art equipment. General radiography tests are performed in an X-ray room where images of the chest, abdomen, skull, spine, or extremities may be taken.
Before the test, you will be asked to sit or lie on an X-ray table where a technologist will position the X-ray over the affected area. During X-ray exposure, you will be asked to remain still for several moments. IVP's, barium swallows, UGI's, and barium enemas and a variety of other miscellaneous tests are performed here.
---
MRI Scanning
Ashley County Medical Center has acquired the latest in MR technology by installing the new Vantage OrianTM from Canon.
The advantages of the new 1.5T Vantage Orian MR system are:
Pianissimo technology delivers whisper quite scanning
Short magnet and 71 cm wide bore offers an open MRI scanning environment
Now with Compressed SPEEDER, rapid scan technologies reduce scan time
With migrated PURERF and Saturn Technology, Vantage Orian delivers stable and consistent imaging performance from patient to patient, across body regions and through a range of advanced applications.
Advanced intelligent Clear-IQ Engine (AiCE) intelligently removes noise from images which results in higher SNR* and enables increased resolution. Achieve sharp, clear and distinct images utilizing the power of Deep Learning, allowing you to see through the noise.
In addition to the Vantage Orian MRI, ACMC also offers the Sentient Suite from Sentient, an innovative, calming and stress-relieving approach to diagnostic imaging suite design. The Sentient Suite Patient Experience reassures, coaches and relaxes a patient who is about to undergo a medical scan, such as a MRI. The Sentient Suite creates a whole new approach to the scanning room-one that is designed from the patient's point of view and give total control back to the patient over the environment. The Sentient Suite greatly helps claustrophobic patients and children typically require less sedation; adults find the positive distraction helps ease anxiety.
Every scan is read by a radiologist with specialty training. An MRI machine produces a strong magnetic field and radio waves. As the atoms in your body react to this energy, the MRI uses this response to construct detailed images. MRI's are often used to look at soft tissue, including internal organs, the brain and spinal cord, and breasts. Most exams require a contrast, meaning that you will be given an injection to make the images more vivid and informative. Exams typically take 45 minutes. Your physician will walk you through preparation for this test. For more information, click this link: https://bit.ly/3b0zhSA
---
Mammography Services
Using the latest technology from Fuji ASPIRE Cristalle 3D Mammography. Combing digital breast tomosynthesis (DBT), also referred to as 3D, with 2D mammography can help to find the smallest of breast cancers or breast abnormalities which otherwise may be missed or hidden within the breast tissue.
---
Nuclear Medicine
Patients receiving a nuclear medicine exam will be given a small amount of radioactive tracer material, known as a radiopharmaceutical. Often, this is given either as an injection or as a gas that is inhaled. A special camera takes pictures to see how your body absorbs and processes the tracer. These exams are often used to detect or monitor various types of cancer. Ashley County Medical Center uses cutting-edge technology, such as SPECT/CT imaging, and minimizes radiation exposure as much as possible. Depending on the exam, you may be finished in two hours, or need to return periodically. Specific instructions will be given to you before your appointment.
---
Ultrasounds
An ultrasound uses high-frequency sound waves in order to create images of internal body structures. This exam is non-invasive and doesn't use radiation. Ultrasounds are often used to look at internal organs such as the liver, reproductive organs, or blood vessels. Our state-of-the-art equipment ensures that our radiologist gets an ideal view. Scans will be read by a specially-trained radiologist. Ultrasounds typically take 30 to 60 minutes. An ultrasound is usually painless, the most you may feel is pressure from a handheld wand, called a transducer. You may be asked to change positions or hold your breath during the exam.