ACMC Family Home Health
"Giving You the Best Care in the Comfort of Your Own Home"
ACMC Family Home Health has been named a national best practice agency by Fazzi Associates, based on their overall patient satisfaction results for the year 2019. Agencies named as national best practice agencies are proven leaders and have excelled in one of the most important measures of an agency's quality program-patient experience.
Depending on your condition, our services may include the following:
Skilled Nursing
IV Therapy
Wound Care
Medication Instruction and Monitoring
Patient & Caregiver Education
Tracheostomy care
Catheter and ostomy care
Gastrostomy (feeding tube) care
Medication and injection administration
Certified Wound Care Nurse
Wound Vacuum Application
Certified Nurse Aides
Assist the patient in the activities of daily living and help with patient's transition from hospitalization to home.
Physical Therapy
Therapeutic Exercises
Strengthening Exercises
Transfer Training
Gait Training
Prosthetic Training
Ultrasound & Electrical Stimulation
Social Worker
Assessment and coordination of patients' needs
Occupational Therapy
Assist in gaining upper body strength and Range of motion
Improving functional activity tolerance for daily task completion
Improving performance in ADL and IADL performance including dressing bathing toileting grooming cooking, cleaning and other household tasks
Home evaluations with recommendation for modification with emphasis on safety and function
Pulmonary Rehabilitation
Neurological rehab and adaptations for conditions such as stroke, Parkinson's, Neurological Palsy's, ALS
Spinal Cord injury rehab
Shoulder rehabilitation
Body mechanics, Energy conservation and work simplification
Transfer training within the home and vehicle
Client based intervention with use of modalities including E-stim and Ultrasound
Speech Therapy
Addresses dysphagia (swallowing problems)
Speech and language development in children
Speech and language development following stroke and brain injury
Addresses memory recall and/or speech disorders in patients that have had: Traumatic Brain injury
Strokes (CVA) Aphagia (cannot swallow), Head and neck cancer, developmentally delayed, Autism, Pervasive Develop-mental disorder, Language delay, Attention Deficit Hyperactivity Disorder, Encephalitis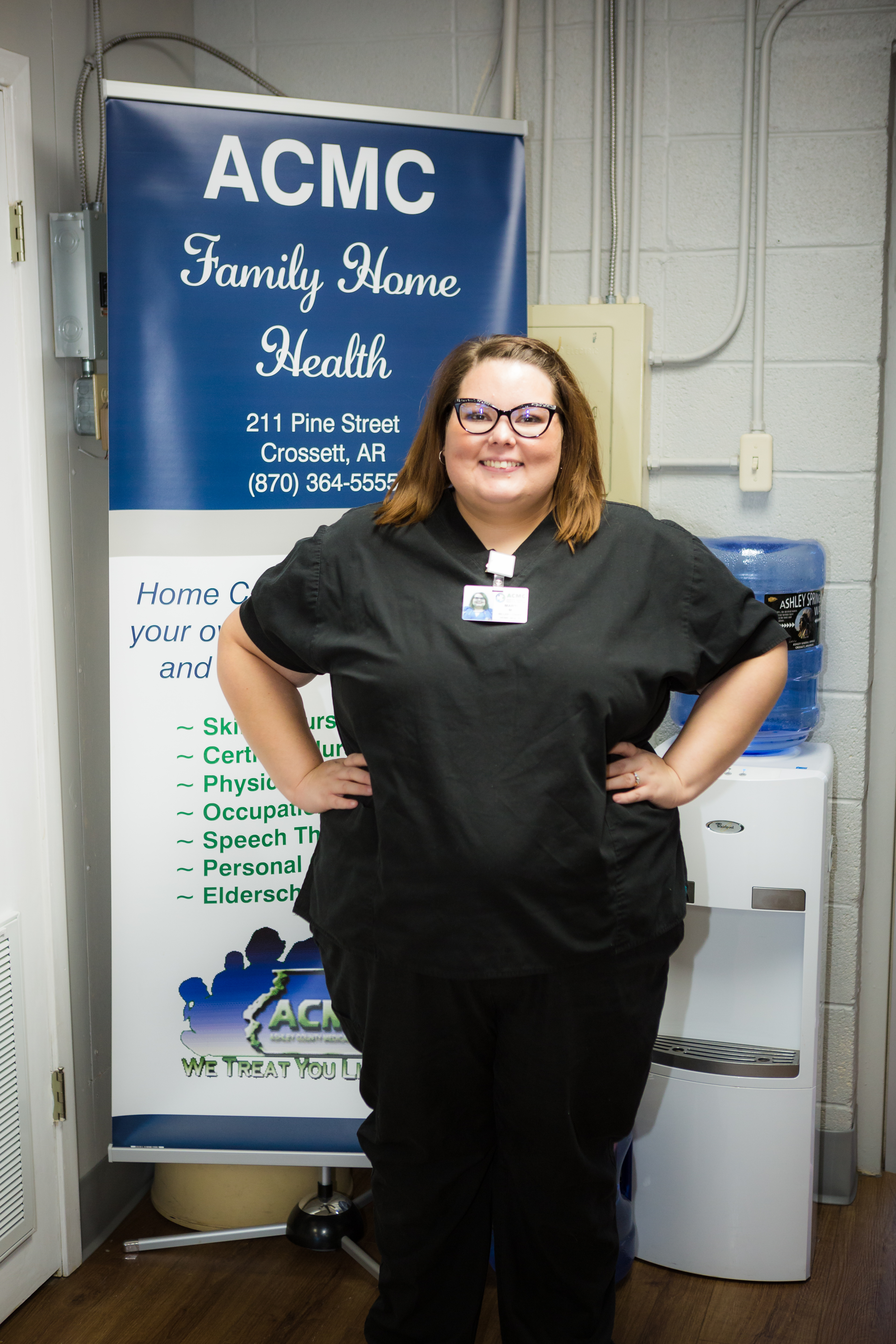 From newborns to seniors, our patients get the health care they need, where they need it most – at home! Our skilled home health personnel and personal care aides are backed by years of experience and the resources of our advanced medical facility. In most cases, Home Health services are covered by Medicare, Medicaid or Private insurance. Private pay is accepted. However, if you are private pay, you may ask to be screened for our uncompensated care program.
If you or a loved one is leaving a hospital whether close by or out of town, and you need help understanding your home health options, we can help. Just contact us and someone will assist you in determining the right home care for you or your loved one.
Our Location Information:
211 Pine Street | Crossett AR 71635
Local (870) 364-5555 | Toll Free (800) 480-9940
Fax (870) 364-5577